Fostering Inclusivity
UW President Ana Mari Cauce launched the university's Race and Equity Initiative in 2015 and presented the UW community with a challenge: that all of us—students, faculty, staff and university leadership—take personal responsibility for addressing our own biases and improving our university culture.
In the College of Built Environments, we are raising our responsibility and commitment to diversity, inclusion, multiculturalism, and equity in all areas of our recruitment, teaching, and hiring.
These efforts include:
Working with the Office of Undergraduate Academic Affairs to expand the breadth of our outreach for student applications

Offering new general introductory courses in built environments, open to all UW undergraduate students

Collaborating with community colleges on accessibility and ease for transfer students

Working with high school counselors to increase knowledge of our programs

Fostering conversations that address problems and result in the implementation of solutions
We are proud to be the home of students, staff, faculty, and scholars from across the globe. The diverse personal experiences our members bring to the CBE community are critically essential to a robust and engaging world-class educational experience.
If you experience any personal incidents that leave you unsettled contact the police immediately.
If you wish to report incidents of non-emergency bias or violations of UW policies for non-discrimination please use the UW's online reporting tool.
2018 - 19 Happenings
Winter 2019 Department of Architecture Studio (Arch 506C)
Equitable Opportunity Campus
The original Seattle Vocational Institute (SVI) building was constructed in 1966 called the Seattle Opportunity Industrialization Center (SOIC). It was renovated in 1982 and again in 1998 in anticipation of increased enrollment. The facility site sits at the intersection of South Jackson Street and 22nd Avenue South in Seattle's Central District. In the fall of 2018, The Seattle College District decided it would surplus the facility and provide it free of cost to a community not for profit group.
This course involves the planning and design of two buildings that will comprise a Community Opportunity Campus. Students will explore the repurposing of an existing vocational educational facility and the newer construction of adjacent student housing.
Instructors:
Donald I King, FAIA, Affiliate Professor of Architecture
Zena Howard, FAIA, Visiting Professor of Architecture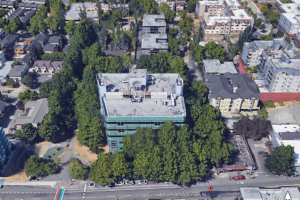 January 16, 2019
Dean's Distinguished Lecture Featuring Lance Freeman: A Haven and a Hell
Architecture Hall, Room 147 | 6:30 pm
Lance Freeman is a Professor in the Urban Planning program at Columbia GSAPP. His research focuses on affordable housing, gentrification, ethnic and racial stratification in housing markets, and the relationship between the built environment and well being. Professor Freeman teaches courses on community development, housing policy and research methods.
His newest book, A Haven and a Hell, researches issues related to neighborhood change, urban poverty, housing policy, urban sprawl and residential segregation. The black ghetto is thought of as a place of urban decay and social disarray and perceived as a space of confinement, one imposed on black America by whites. It is the home of a marginalized underclass and a sign of the depth of American segregation. Yet while black urban neighborhoods have suffered from institutional racism and economic neglect, they have also been places of refuge and community.
Lance Freeman examines how the ghetto shaped black America and black America shaped the ghetto. Freeman will trace the evolving role of predominantly black neighborhoods in northern cities from the late nineteenth century through the present day. At times, the ghetto promised the freedom to build black social institutions and political power. At others, it suppressed and further stigmatized African Americans. Freeman will explore the forces that caused the ghetto's role as haven or hell to wax and wane, spanning the Great Migration, mid-century opportunities, the eruptions of the sixties, the challenges of the seventies and eighties, and present-day issues of mass incarceration, the subprime crisis, and gentrification.
This event is free and open to the public. Please register.
February 5 – 28
The Art of Black Urbanism
Gould Gallery
This exhibit features art exploring the themes of black visibility and shifting spaces in community. Photography by Dr. Matthew Miller (University of Pennsylvania Post Doctoral Fellow, Cit y and Regional Planning) and Jessica Rycheal (Everyday Black); sculpture by Keith Murakata.
Open M/Tu/Th/F 12:00 pm – 5:00 pm; W 12:00 pm – 7:00 pm. Closed weekends & President's Day.
February 13, 2019
The Department of Architecture Lecture Series Presents Zena Howard
Architecture Hall, Room 147 | 6:00 pm
Zena Howard, FAIA, LEED AP BD+C, is a Principal and Managing Director of Perkins + Will, North Carolina. An award-winning architect, strategist, mentor and team builder, she is known for her success leading visionary, complex, and culturally-significant projects including the Smithsonian Institution's National Museum of African American History and Culture in Washington, DC, several libraries for Durham County in Durham, NC, the Anacostia and Tenley-Friendship Neighborhood Libraries in Washington, DC, the Motown Museum Expansion in Detroit, MI, and the New Brooklyn Village development initiative in Charlotte, NC.
Ms. Howard is also Managing Principal and Lead Facilitator for the City of Vancouver Hogan's Alley initiative and the City of Greenville Town Common Sycamore Hill project. She is helping these and other clients envision and create cultural destinations that will celebrate the history and context of displaced, forgotten communities.
Zena Howard is an advocate for diversity within the architecture profession, a field where minority and women professionals are historically under-represented. She is a founding member of Perkins+Will's Diversity + Inclusion Council, an associate professor of architecture at North Carolina State University College of Design, and is a member of Delta Sigma Theta, Inc. public service sorority.
March 4 – 14
UBUNTO
UW Runstad Affiliate Fellows South Africa
Gould Gallery
Ubuntu is a South African philosophy of social justice through the notion that our own well-being is tied to the well-being of others and it is this shared responsibility of our community that binds us together and makes us human. The 2018 UW Runstad fellows will share discoveries from their study in Cape Town and Johannesburg and how the lens of race and social justice informs the post-apartheid redefinition of the built environment with attention given to informality in aspects of housing, public realm, and climate change and how we might apply these lessons to our home in Seattle.
April 1 – May 3, 2019
Memory & Place Exhibit
Gould Gallery
April 3, 2019
The UW Graduate School Lecture Series Presents Memory & Place
Kane Hall, Room 130 | 7:30 pm
Greek philosopher Heraclitus said change is the only constant in life. However, what does it mean when the places we live and remember change? Are our history and memories still relevant? Artists Morehshin Allahyari, Trinh Mai, and Sara Zewde use different mediums to create visual works around these questions. Please join us for a panel discussion with these three artists as they explore the connections between memory, place, and art.
This event is free and open to the public. Please register.
April 10, 2019
Dean's Distinguished Lecture Featuring Michael Ford
Kane Hall, Room 130 | 6:30 pm
A Sound Design LLC. doing business as BrandNu Design, he focuses on community engagement, pre-development strategies, and capital campaigns for new developments. Michael Ford, Associate AIA is a designer, born and raised in the city of Detroit. Ford received his Masters of Architecture degree from the University of Detroit Mercy (UDM), where he completed his graduate thesis titled "Hip Hop Inspired Architecture and Design."
Ford has spent the past decade working to blur the lines between professional practice and academia. He is dedicated to stimulating cross disciplinary discourse between practitioners and residents on the sociological and cultural implications of architecture and urban planning on its inhabitants. More specifically, Ford has unveiled the subconscious roles of historical architectural figures such as LeCorbusier in envisioning the built environments which necessitated the birth of hip hop culture.
This event is free and open to the public. Please register.
May 2, 2019
The UW Graduate School Lecture Series Presents an Evening With Theaster Gates
Kane Hall, Room 120 | 7:30 pm
Theaster Gates draws on his interest and training in urban planning and preservation to create social practice art installations. Focusing on space theory and land development, sculpture and performance, he redeems spaces that have been left behind.
Known for his recirculation of art-world capital, Gates creates work from the focuses on the possibility of the "life within things." By upturning art, land and human values, he contends with the notion of Black space as a formal exercise – one defined by collective desire, artistic agency, and the tactics of a pragmatist.
Gates has exhibited and performed at the National Gallery of Art, Washington D.C., USA (2017); Art Gallery of Ontario, Canada (2016); Fondazione Prada, Milan, Italy (2016); Whitechapel Gallery, London, UK (2013); Punta della Dogana, Venice, Italy (2013) and dOCUMENTA (13), Kassel, Germany (2012). He was the winner of the Artes Mundi 6 prize and the Nasher Prize for Sculpture 2018 and is the recent recipient of the Légion d'Honneur, awarded 2017.
This event is free and open to the public. Please register.
May 9, 2019
The UW Graduate School Lecture Series Presents an Evening With Sir David Adjaye
Kane Hall, Room 130 | 7:30 pm
Sir David Adjaye OBE is the principal and founder of Adjaye Associates. Born in Tanzania to Ghanaian parents, his broadly ranging influences, ingenious use of materials and sculptural ability have established him as an architect with an artist's sensibility and vision. His largest project to date, the $540 million Smithsonian Institution National Museum of African American History and Culture, opened on the National Mall in Washington DC in fall of 2016 and was named Cultural Event of the Year by the New York Times. In 2017, he was knighted by Queen Elizabeth II and was recognized as one of the 100 most influential people of the year by TIME Magazine.
This event is free and open to the public. Please register.
June 3 – 7, 2019
Exhibit
Gould Gallery
College Equity Council
The college Equity Council was established in autumn 2016 to identify areas of community and pedagogic improvement throughout the college that promote our goals of greater diversity, equity and inclusion. Meetings are held from 12:00 pm – 1:20 pm on the second Monday of each month in Gould 227. Please join us!
Mission
A diverse and inclusive CBE community will celebrate, not simply tolerate, the personal differences of our alumni, faculty, staff, and students, treating that diversity as an educational resource that is as equally important as departmental pedagogy and professional practice. CBE will strive to create an environmental and pedagogic climate where diversity is accepted, respected and promoted. In striving for inclusive excellence, CBE will produce alumni unrivaled in their ability to promote equity on a global scale.
For CBE purposes,
Diversity is a range of human identities, including but not limited to age, creed, culture, ethnicity, gender, gender identity, national origin, physical ability or attributes, political beliefs, race, religious or ethical values system, sexual orientation, socioeconomic class, and veteran status. 
Equity is understanding how historical and structural legacies shape contemporary societal realities (e.g. citizenship, education, immigration, migration, public policy, and religion), recognizing when such legacies maintain specific power and privilege shape these realities, and restoring balance when policy and societal application does not work to the benefit of all our citizens. 
Inclusion is the active engagement, involvement and empowerment of our diverse community, where the inherent worth and dignity of our full community is recognized.
Strategic Goals
Establishing an organizational structure within the CBE that is committed to diversity, equity, and inclusion across all aspects of teaching, research, service, and practice.
Actively recruit and retain faculty, teaching assistants, and staff that are themselves diverse or promote diversity, equity, and inclusion.
Attract, retain, and graduation a student body that affirms the value of diversity, equity, and inclusion thereby promoting these values in their global professions.
Cultivate curriculum and promote pedagogy that emphasizes diversity, equity, an inclusion as equally important elements of the classroom/studio experience.
Promote a college climate that emphasizes diversity, equity, and inclusion as essential elements to graduating fully informed global citizens.
Enhance collaboration between the CBE and its donors, alumni, and Professional Advisory Councils that promote diversity, equity, and inclusion within the built environment.
2018 – 19 Membership
Meegan Amen, Chair, Office of the Dean
Aury Banos, Department of Urban Design + Planning
Maisha Barnett, Office of the Dean
Asela Chavez Basurto, Department of Urban Design + Planning
Nick Dreher, Department of Landscape Architecture
Megan Herzog, Department of Urban Design + Planning
Louisa Iarocci, Department of Architecture
Julie Johnson, Department of Landscape Architecture
Marlo Kapsa, Department of Urban Design + Planning
Donald King, Department of Architecture
Lynne Manzo, Department of Landscape Architecture
Jake Minden, Department of Landscape Architecture
Siman Ning, Department of Urban Design + Planning
Katherine McDermott, Department of Construction Management
Allie Rowe, Department of Landscape Architecture
Kim Sawada, Department of Architecture
Simon Stevenson, Runstad Department of Real Estate
Christoph Strouse, Department of Urban Design + Planning
All CBE faculty, staff, and students are welcome to join.
Departmental Diversity Councils
2017 - 18 Theme - Growing Equitably TOGETHER
May 21-25, 2018 9:00 am – 4:00 pm
"Growing Equitably Together Exhibit
Gould Gallery, Olson Gallery
A showcase of CBE faculty and student works examining how we might grow together equitably. Work includes independent faculty research, lab research, student thesis projects, group studio projects, independent study material, and charrette or symposium outcomes (to name a few). Exhibit content accepted in Gould 224 through Tuesday, May 15 for inclusion.
May 16, 2018 6:00 pm – 7:30 pm
Architecture Hall, 147
"Equitable Development: Social Equity by Design"
Featuring Carlton Eley, Environmental Justice Division, Environmental Protection Agency
May 4, 2018 8:30 am – 4:30 pm
"The Challenges of Urban Growth and Social Justice: Learning from the Past and Looking to the Future"
PhD Symposium, Interdisciplinary PhD in Urban Design and Planning
Samuel E. Kelly Ethnic Cultural Center, Native Chicano Suite
Keynote speaker: Prof. Leonie Sandercock, UBC School of Community & Regional Planning
April 18, 2018 6:00 pm – 7:30 pm
Architecture Hall, 147
"A Central Vision"
A Central Vision, a 30-minute documentary film by Inye Wokoma and City of Seattle's Office of Planning and Development, takes a look at the history of the Central Area, current plans and policies addressing the rapid growth and change in the neighborhood, and the future stake of long-time residents. Watch the trailer.
March 7, 2018 6:00 pm – 8:00 pm
Architecture Hall, 147
"When Ivory Towers Were Black: Lessons in Diversifying the City-Making Professions"
Featuring Sharon Sutton, Emeritus Professor, UW Department of Architecture
February 22, 2018 4:00 pm – 6:00 pm
"Planning for Equitable Growth in the U-District"
CEP Panel Discussion
Panelists: Senior Project Director, Campus Master Plan; David LaClergue, CIty of Seattle Planner OPCD; Devin Kelly, SEIU 925
Exploring Equity in the Built Environment
The College of Built Environments explores diversity, equity, and inclusion within the built environments two ways. The CBE aims to identify institutional racism and structural community inequality in the built environment through its pedagogy. Current department research projects address such topics as economic revitalization, managing community growth, land monitoring, neighborhood and street design, active transportation, non-motorized transportation safety, physical activity, and access to food environments. Instruction delves into many systems critical to economic and social well-being such as energy, water, health, transportation, education, and communications. Identifying the institutional inequality in community resource allocation will combat neighborhood racial and economic stereotypes that promote unconscious and institutional bias.
The CBE also aims to build a more diverse and inclusive community by welcoming faculty, staff and students from a wide range of backgrounds, life experiences, and educational knowledge. Instructional dialogue is enhanced through student exposure to these varied perspectives and is a vital component towards forming world-class graduates.
Past Lectures -- Diversity + Equity
2018–"Social Equity by Design" Featuring Carlton Eley.
2017–"The National Museum of African American History and Culture, designing on our National Treasure" Featuring Zena Howard.
Additional UW Diversity Resources